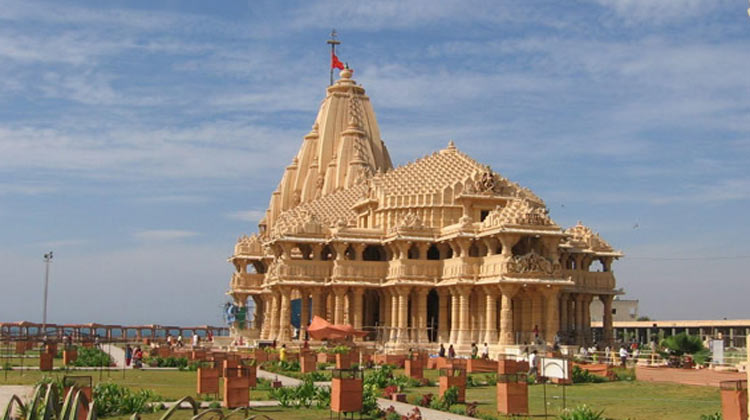 Shree Somnath is first among the twelve Aadi Jyotirlings of India. It has a strategic location on the western coast of India.
Somnath Temple Darshan timings
Morning : 7.30 AM to 11.30 AM
Afternoon : 12.30 PM to 6.30 PM
: 07.30 PM to 10.00 PM
Temple Closing Time 10.00 PM
Somnath Temple Aarti Timing
7.00 AM, 12.00 Noon, 7.00 PM
During Aarti Devotees will not be allowed
How to Reach Somnath Temple – Location
The Somnath temple (also known as the Deo Patan) located in Prabhas Patan near Veraval in Saurashtra on the western coast of Gujarat, India
Veraval Somnath is connected with Amdavad to Rail and Road facilities. Somnath is at a distance of 465 km from Ahmedabad. Ahmedabad is connected by Rail, Road and Air with all the major destinations. At present Jet Airways operates passenger flight from Bombay to Diu every day except Thursday. Somnath is connected with Diu by road (95 km).
Accommodation Near Somnath Temple
Pilgrims can avail the guest house facilities of Shree Somnath Trust. Trust maintains a VIP Guesthouse, Eighteen other guest houses and an economical dormitory. The total number of rooms in the trust guest houses are in excess of Two hundred. View the Room Details
Online Booking of Accommodation at Shree Somnath Trust Guest House visit here
Somnath Temple History
Ancient Indian traditions maintain a close relationship of Somnath with release of Chandra (Moon God) from the curse of his father-in-law Daksha Prajapati. Moon was married to Twenty-Seven daughters of Daksha. However, he favoured Rohini and neglected other queens. The aggrieved Daksha cursed Moon and the Moon lost power of light. With the advice of Prajapita Brahma, Moon arrived at the Prabhas Teerth and worshipped Bhagvan Shiva. Pleased with the great penance and devotion of Moon, Bhagvan Shiva blessed him and relieved him from the curse of darkness. Pauranic traditions maintain that Moon had built a golden temple, followed by a silver temple by Ravana, Bhagvan Shree Krishna is believed to have built Somnath temple with Sandalwood.
The research based on ancient Indian classical texts show that first Somnath Jyotirling Pran-Pratistha was done on the auspicious third day of brighter half of Shravan month during the tenth Treta yug of Vaivswat Manvantar. Swami Shri Gajananand Saraswatiji, Chairman of Shrimad Aadhya Jagadguru Shankaracharya Vedic Shodh Sansthan, Varanasi suggested that the said first temple was built 7,99,25,105 years ago as derived from the traditions of Prabhas Khand of Skand Puran. Thus, this temple is a perennial source of inspiration for millions of Hindus since time immemorial.
The Moon God is said to have been relieved from the curse of his father-in-law Daksha Prajapati by the blessings of Bhagvan Somnath. In the Shiva Purana and Nandi Upapurana, Shiva said, I am always present everywhere but specially in 12 forms and places as the Jyotirlingas.Somnath is one of these 12 holy places. This is the first among the twelve holy Shiva Jyotirlings.
The later sources of history account for several desecrations by Muslims invaders during eleventh to eighteen century A.D. The temple was rebuilt every time with the reconstructive spirit of the people. The modern temple was reconstructed with the resolve of Sardar Patel who visited the ruins of Somnath temple on November 13 1947. Then President of India, Dr. Rajendra Prasad, did the Pran-Pratistha at the existing temple on 11 May 1951.
Other spots in the temple are Shri Kapardi Vinayak and Shri Hanuman Temple in addition to Vallabhghat. Vallabhghat is a beautiful sunset point. The temple is illuminated every evening. Similarly, the Sound & Light Show "Jay Somnath" is also displayed every night during 8.00 to 9.00, which allows the pilgrims an ethereal experience in the backdrop of grand Somnath temple and the holy wave sounds of the Ocean.
Ahalyabai temple is also close by, which was built by the queen mother Shri Ahalyabai Holker during 1782. This temple maintained the Pooja Parampara of Bhagvan Shiva during the hostile political conditions.