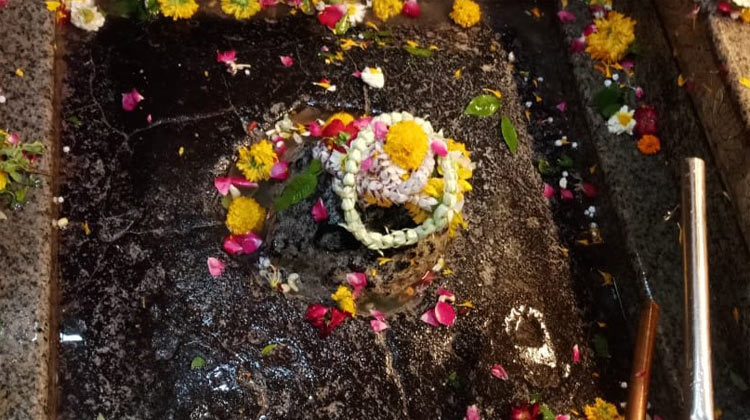 Omkareshwar Jyotirlinga in Khanda Temple is one of the 12 revered Jyotirlinga shrines of Shiva. It is located in the island called Mandhata or Shivpuri in the Narmada river at Khandwa district in Madhya Pradesh, India; the shape of the island is said to be like the Devanagari ॐ symbol.
Omkareshwar Jyotirlinga Temple Dharshan Timings
Omkareshwar Jyotirlinga Temple Dharshan Timings:
The Temple is opened at 5:00 AM and closed at 9:30 PM.
Morning: From 5.00 AM to 3:50 PM
Break: 3:50 PM to 4:15 PM
Evening: From 4:15 PM to 9:30 PM
Omkareshwar Temple Pooja Timings:
5.00 AM to 5.30 AM:- Mangal Arti
5.30 AM to 12.25 PM:- Jalabhishek
12.25 PM to 1.15 PM:- Madhyanha Bhog
1.15 PM to 3.50 PM:- Jalabhishek
3.50 PM to 4.15 PM:- Vyavastha (Darshan Closed)
4.15 PM to 8.20 PM:- Shringar Darshan
8.20 PM to 9.05 PM:- Shayan Arti
9.05 PM to 9.35 PM:- Shayan Darshan
9.30 PM to 5.00 AM:- Pat band Vishram (Darshan Closed)
For All Arti's and Abisheks Online booking is available here
Omkareshwar Temple Special Darshan Details:
Special darshan for physically handicapped and old peoples are available. For Details contact any trust officials or authorities.
For special darshan (direct darshan) please take tickets from the counter or Book Online here
Omkareshwar Jyotirlinga Temple History:
According to legend, sage Narada the son of Lord Brahma visited the Vindhya parvat and told him that the Meru parvat was larger in size. This made Vindhya parvat jealous. Determined to be taller than Meru mountain, Vindhya mountain began to pray to Lord Shiva to bless him and make him taller.
As a result, Lord Shiva was happy and blessed him with the desired boon. At the request of all the gods, Lord Shiva divided the linga into two parts. One in Omkareshwar and the other in Amareshwar. He gave Vindhya parvat his blessing that he would not stop growing, but in return, Vindhya should not cause problems for people. But Vindhya has dishonored his promise.
Soon, He even blocked the sun and the moon. All the deities went to the Agastya sages for help. The sage Agastya and his wife made him promise Vindhya that he would not grow until they returned. Vindhya agreed. The sage and his wife left and never returned. The sage and his wife stayed at Srisailam. He is considered to be Dakshina Kashi and one of the Dwadash Jyotirlinga.
Two temples of Omkareshwar
There are two main temples of Lord Shiva here, one to Omkareshwar (whose name means "Lord of Omkara or the Lord of the Om sound") located in the island and one to Mamleshwar (whose name means "Immortal Lord" or "lord of the Immortals or Devas") located on the south bank of Narmada River on the mainland.
The temple of Omkareshwar Jyotirlinga of Lord Shiva is 4 km away from Indore and 13 km away from Mortakka. Here the Narmada river divides into two, forming an island called Mandhata or Shivpuri. This island is about 6 km long and 2 km wide. The shape of this island is the same as that of the Om or Omkar's scene.
It is said that the Jyoti Linga is located in Omkareshwar and the earthly lingam is located in Amareshwar / Mamleshwar. According to other stories, King Mandhata of Ikshvaku dynasty did severe penance here, then Lord Shiva blessed him and appeared here, since then Lord Shiva is enshrined in Omkareshwar
Omkareshwar Jyotirlinga in Khanda Temple architecture
The main temple of Omkareshwar is made of North Indian architecture with high peaks. This temple is a major attraction of the visitors. There is no authentic information about the construction of the temple. Who built it and when it is unknown. The sanctum sanctorum of the temple looks like a small temple originally built in the old construction style. Its dome has been built by depositing layers of stone.
The temple has a huge sabha mandapa which is about 18 feet high and is based on 40 huge pillars. The temple is in total with 5 buildings and all have different deities installed on them. Which are Shree Omkareshwar, Shree Mahakaleshwar, Shree Siddhanath, Shree Gupteshwar, and Dhwajdhari Shikhar Devta respectively from bottom to top.
Omkareshwar Jyotirlinga in Khanda Poojan and Palan
Daily 3 Pujas performed in the temple regularly. The morning Puja is performed by the Puja Trust. The afternoon puja is performed by the priest of Scindia Gharana. Evening worship is done by the priest of Holkar State. There is always a crowd of devotees in the temple who take bath in Narmada. They worship God by taking vessels filled with Narmada water, flowers, coconut and other materials. Many devotees also do special worship and consecration of the Lord along with the priest. There is a huge crowd during festivals days.
Every Monday, the golden-faced idol of Lord Omkareshwar is seated in a beautiful palanquin. And procession is carried out by the priests and devotees along with drums, which is called dola or palanquin. Processions are done in different parts of the city, this procession is known as Monday ride. It is celebrated on a large scale in the holy month of Shravan. A large number of devotees celebrate Om Shambhu Bhole Nath while dancing and blowing gulal, it is a beautiful sight.
How to reach Omkareshwar Jyotirlinga in Khanda
Omkareshwar Jyotirlinga in Khanda is located almost in the middle of India, it is near Indore, the main city of Madhya Pradesh.
There are many ways to get here. Travellers can also come to Omkareshwar by private taxi from Indore and Khandwa.
By Air to Omkareshwar Jyotirlinga Temple
The nearest airport from the Omkareshwar is Devi Ahilyabai Holkar Airport, Indore. This is situated at a distance of 77 km from the city. This 2-hour drive can be covered by hiring a cab or taxi from the airport. One can also catch a bus which can take you to the Omkareshwar. Indore Airport is well-connected with the major cities of India by several airlines namely Air India, Indigo, Jet Airways, etc. Indore has regular flights from Delhi, Mumbai, Ahmedabad, Hyderabad, Kolkata, Pune, etc. The nearest international airport from the Omkareshwar is the Raja Bhoj International Airport, Bhopal. This is roughly 264 km away and frequently connected with various national and international destinations.
How to Go By Road to Omkareshwar Temple
Omkareshwar has a well-maintained road network which makes the excursion to the city easy. The city is situated at 86 km Indore, 133 km from Ujjain, and 268 km from Bhopal, 376 km from Vadodara, 446 km from Nagpur, 576 km from Pune. Madhya Pradesh State Road Transport Corporation (MPRTC) ply buses between the major cities of the state. Private buses also run for Omkareshwar from nearby states. From Ahmedabad and Pune, there are regular bus services. One can also drive to Omkareshwar as the roads are well-maintained so the journey will be hassle-free.
By Rail
Omkareshwar houses its railway station namely Omkareshwar Railway Station. This is located at a distance of 12 km from the city. This is a major stop on the Ratlam – Khandwa railway line and is well-connected with the major cities of India like Delhi, Bangalore, Mysore, Lucknow, Chennai, Kanyakumari, Puri, Ahmedabad, Jaipur, Ratlam, etc. Omkareshwar has regular trains from these stations. One can hire an auto-rickshaw from the railway station to the city or also avail taxi to traverse in the city.