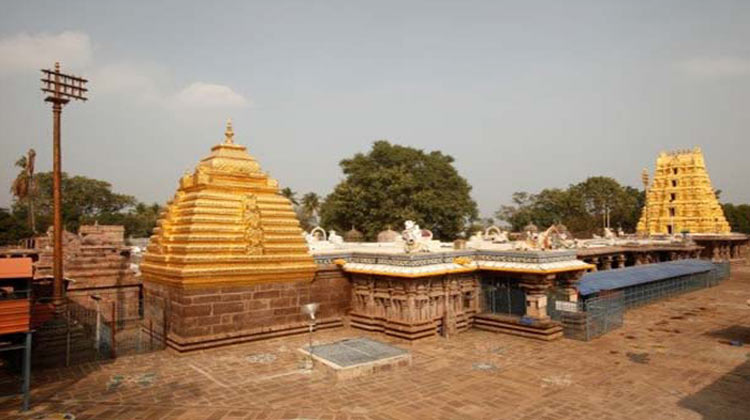 The Holy Place Srisailam is also known as "Kailash of the South" because of Srisailam Mallikarjuna Swamy Temple which is one of the greatest Shaivite shrines in India
The presiding Deities of this Kshetram God Mallikarjuna Swamy is one of the twelve Jyothirlingas and Goddess Bhramaramba Devi is one of the eighteen Mahasakthis and both are believed to be self-manifested. The unique feature of this Kshetram is the co-existing of Jyothirlingam and Mahasakthi in one Temple complex, which is the rare and only of its kind
Srisailam Mallikarjuna Swamy Temple Darshan Timings
Online Booking Slots for Srisailam Mallikarjuna Swamy temple darshan starts from 6.30 AM and Closing at 8.30 PM
Devotees can book darshan tickets through online either for free Darshan or Seegra Darshan. Seegra Darshan charge is Rs.150
For Darshan Online Booking Visit Here
Seva Timings and Charges Visit Here
Srisailam Mallikarjuna Swamy Temple Location
How to reach Srisailam Mallikarjuna Temple
By Air
The nearest Airport is Hyderabad (230 K.M.) from where buses are plying to Srisailam everyday frequently.
By Rail
Markapur, which is 91 K.M. from Srisailam in Guntur-Hubli, line on South Central Railway from where buses are available to Srisailam.
By Road
Srisailam is well connected by A.P.S.R.T.C.Buses not only from all corners of the State but also from Bangalore, Chennai etc. The Karnataka Road Transport Corporation is also running buses from various main cities of that state.
About Srisailam
Srisailam Mallikarjuna Swamy Temple is Located in a picturesque environment of Nallamalai Hills, 'Srisailam' the abode of Siva and Sakthi is on the right side of the river Krishna in Kurnool district of Andhra Pradesh. It is at an altitude of 476 meters above the sea level, at Latitude of 16 12" North and Longitude of 78 5" East.
The presiding Deities of this Kshetram God Mallikarjuna Swamy is one of the twelve Jyothirlingas and Goddess Bhramaramba Devi is one of the eighteen Mahasakthis and both are believed to be self-manifested. The unique feature of this Kshetram is the co-existing of Jyothirlingam and Mahasakthi in one Temple complex, which is the rare and only of its kind.
At this place the river Krishna flows through a deep narrow valley, approximately 100 meters wide and nearly at a depth of 1000 meters from the hill top. The river flows at a distance of 70 Km to the up of Srisailam and continues to flow in the same valley for a further distance of 80 Km to the down till it reaches Nagarjunasagar. The narrow flow of the river at such deep valley is fine looking and more pleasant near Srisailam where it is called as Pathalaganaga.
Actually the river takes two repeated bends at Pathalaganga with in a short distance and makes a large stretch of high Plateau in each bend. The right part of it we have Srisailam and whereas on the left there is ruined Chandraguptanagara which is mentioned in the Skandapurana and also some of the celebrated Literary works of 12th to 16th centuries.
In the traditional Hindu mythology, this Kshetram is identified as the Kailasa on the earth and named as ILA – KAILASAM. Besides its mythical antiquity, Srisailam is also having a hoary historical antiquity. Starting from the Satavahanas who were the earliest rulers of Andhradesa, the region around Srisailam appears as a prominent religious centre and it continues to be so into the present times.
The inscriptional evidences available at Srisailam are of the 12th century A.D and afterwards, which is very intriguing. However, the inscriptions belonging to various early historical places found in various parts of the Deccan and Andhra Pradesh, testify to its historical antiquity starting from first century A.D. In this small book the temple complex of Srisailam is analysed from the view point of chronology, art and architecture, sculpture and iconography.